Begunje, Slovenia (Nov. 2021) – Elan Skis, handcrafted skis made in the Slovenian Alps for over 75 years, is globally recognized for the performance and excellence of its 2021/22 ski collection by recieiving 60 awards throughout Europe and North America. 
"Our 2021/22 collection is the most diverse and advanced-designed skis ever created in our brand's history," said Melanja Korošec, Brand Director at Elan. "From award-winning skis across every segment of the market to pushing the envelope of innovation with the world's first all-mountain folding ski, the Elan family is honored to be distinguished by so many awards." 
Over thirty different skis picked up awards across various categories including all-mountain, freeride, touring, big mountain, race and youth. The leaders of the pack including all the men's and women's Ripstick collection along with the carbon-upgraded Ripstick Black Edition, Wingman 82 CTi, Wildcat 82 CTi and GSX earned performance awards from fifteen tests conducted in eight countries. In total Elan took home 60 awards!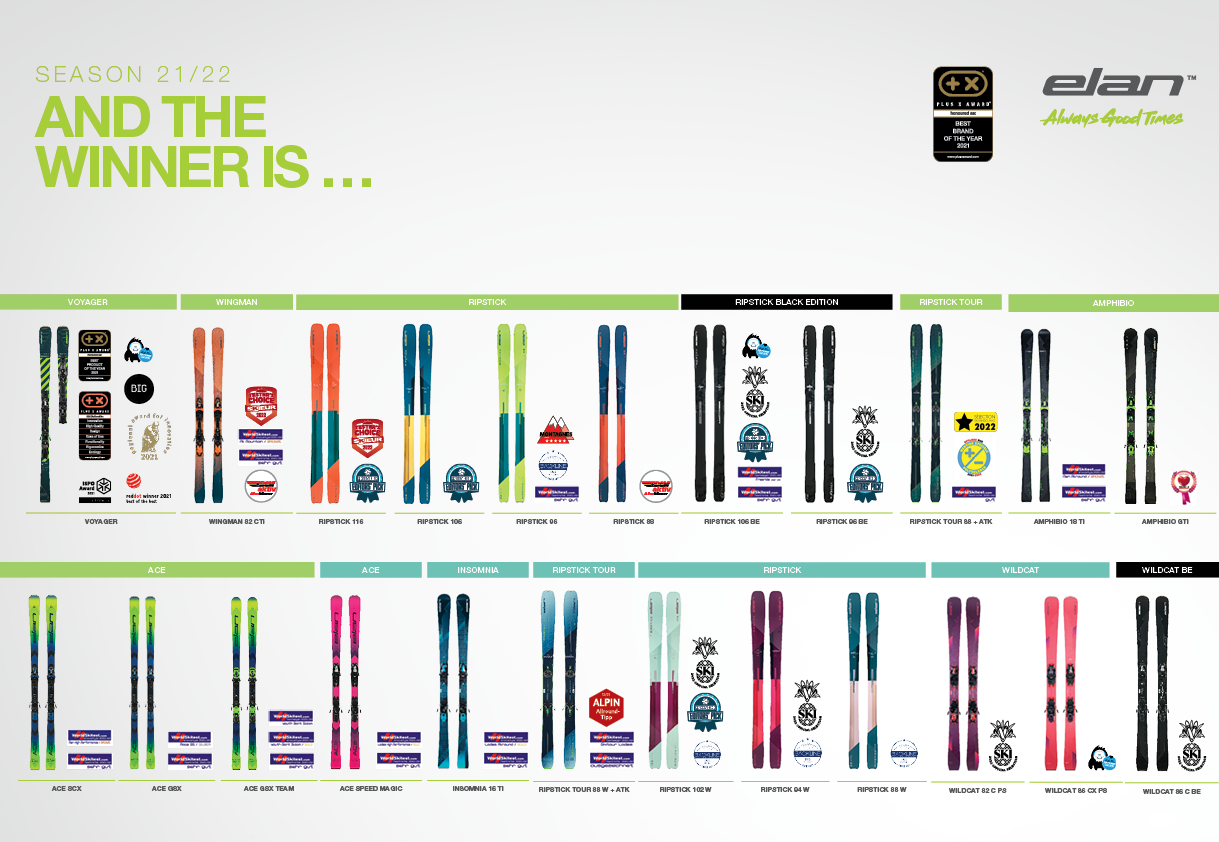 Winning the most prestigious awards including the Plus X Award, ISPO Gold Award in the Hardgoods Category, Big See Product Design Grand Prix Award, Chamber of Commerce Industry of Slovenia Gold National Innovation Award and the highest caliber Red Dot Award 'Best of the Best' goes to the revolutionary folding ski design of the Elan Voyager.
The Voyager was created for the urban ski enthusiast looking for convenience when traveling with skis. The skis' were designed with user in mind, emphasizing on inuitive and secure use. Connect Technology, a four-axis mechanism that bonds and seals the ski together at the folding joint, allows the ski to go from full-length to fitting in the trunk of the car with plenty of room to spare. Beyond the ease of transporting, the skis perform with are praised for their agile, grippy and easy to ski performance with the added design bonus to fite the needs of the traveling skier, that is passionate about striking a balance between a busy schedule and a healthy lifestyle. 
In addition to product and design, the Elan brand was named "Best Brand of the Year" by Plus X, the world's largest innovation award for technology, sports and lifestyle. The award celebrates brands for leading edge quality and innovation in product designs.
"Each award is a reflection of our team's dedication and hard work, and we are honored by the recognition which affirms our holistic approach to continually advancing the performance of skis in all segments to enable more skiers to get the most ot of their day and maxmize the always good times experienced when making memories together in the mountain," said Melanja Korošec.