Elan's vision is to inspire an active and sustainable lifestyle for friends and families. Last week we presented to the public our e-bikes, complementing our traditional mountain and trekking bike range. In our collection of traditional bikes, we offer 14 models of women's, men's, and children's bikes. The bike program is complemented by accessories such as helmets and cycling wear.
The event was set in the mountain environment of a ski resort in Mojstrana, where Mr. Leon Korošec, Vice President of the Elan Group and Director of the Winter Sports Division, presented a further development of the Elan Group: "The presentation of a comprehensive collection of e-bikes and traditional bicycles is an important milestone in the development of the Elan brand. We believe that spending leisure time actively with friends and family in an authentic mountain environment positively affects an individual's well-being. With this in mind, as a brand, we actively develop new programs that support our 'Always Good Times' strategy. On the other hand, electric bikes have the potential to replace motorized means of transportation in alpine environments and thus contribute significantly to reducing carbon footprint and therefore preserving nature."
Elan's bike collection is divided into two programs. The first part consists of mountain and trekking bikes for women, men, and children, which were developed in collaboration with a licensed partner. These bikes will be exclusively available Elan's store in Begunje, and Elan's online store. The second part of the program features innovative and high-quality e-bikes developed by Elan's product development team.
Brand New: Elan E-bikes
Elan's innovative and high-quality e-bikes offer easy and enjoyable cycling for everyone. Whether for relaxed rides with family or conquering more challenging terrains with friends, these bikes provide versatility. Cyclists can explore new terrains with the powerful front-suspension Mantis e-mountain bike equipped with a Shimano drive unit or effortlessly tackle demanding trails with the Trailmaker, a lightweight full-suspension all-mountain e-bike featuring the innovative Fazua drive unit. Elan's e-bikes will be available on the market in early spring of 2024.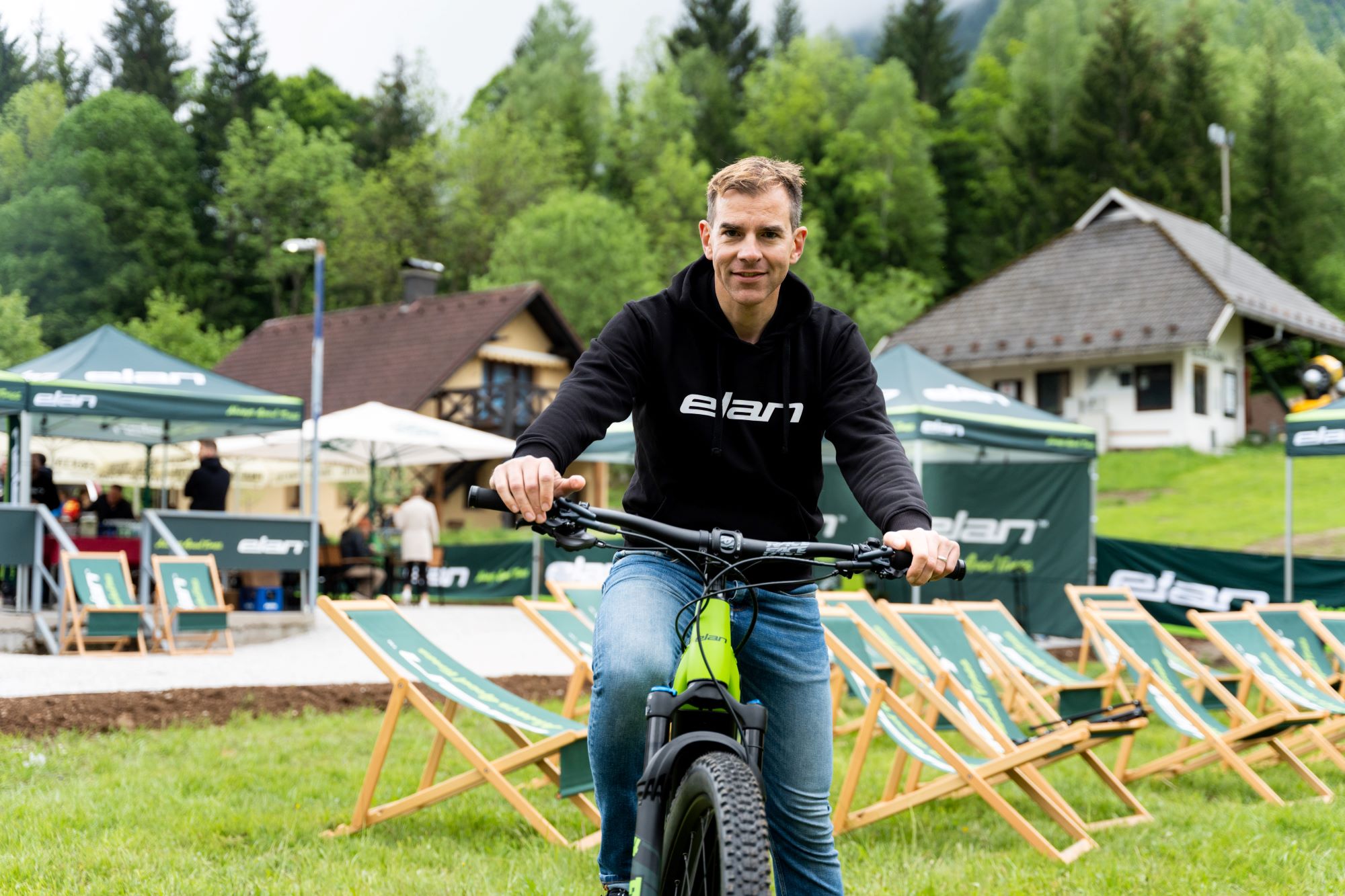 Elan Classic Bikes
Elan's classic bikes are designed to provide easy and comfortable cycling, delivering the best possible cycling experience. Whether cyclists seek relaxed rides with loved ones or exploration of new terrains, these bikes are perfect companions for your next adventure. With a wide range of models, cyclists can easily find the suitable bike that matches their style and needs. The collection includes six limited series models developed and introduced to the market last year, with this year's lineup featuring technically advanced models. The two new models include full-suspension bikes from the popular Trail segment (Frisky GX and Frisky SX), an advanced front-suspension mountain bike (Rambler MTB), and two models from the highly popular and growing Gravel category (Fiery Carbon and Fiery Alu), with the top-tier model featuring a carbon frame. In total, the classic bike collection offers 14 models for women, men, and children.
Discover the Joy of Cycling
Elan's vision is to inspire an active and sustainable lifestyle, encapsulated in the winter sports division's slogan: "Always Good Times." In line with this, they have designed a cycling collection intended for the entire population. These products do not require advanced skills but simply the enjoyment of sports and active leisure, for which the Alpine region provides ample opportunities.
"For decades, Elan has been exploring and developing innovations with one goal in mind - to enhance the mountain experience for everyone, from beginners to enthusiasts. Throughout the years of pushing boundaries of innovation, we have been fulfilling our mission to create the most powerful, highest quality, and most advanced products for friends and families. With our brand, we are committed to achieving this highest goal and fulfilling the promise of creating the most beautiful day in the mountains for users of Elan products every day of the year. With this step, Elan is becoming a provider of sports equipment for every day of the year. The bikes program focuses primarily on the environments where Elan is already present and well recognized, mainly alpine, and subalpine areas that offer numerous opportunities to enjoy nature," adds Leon Korošec.
Bicycle Development
Elan aims to provide nature enthusiasts with unforgettable mountain experiences through products created with a unique user-centric approach. Matija Rimahazi, the Product Manager of the Bikes Program, states, "When designing the bicycle program, we focused primarily on the user experience. We want to give cyclists the confidence to effortlessly cover distances and explore and enjoy the mountains." He further adds, "Collaboration with leading experts in bike design confirms our belief that excellence can only be achieved by combining rich local experience in innovation with specialized multidisciplinary knowledge."
Sustainability and Making Cycling Accessible to All
Innovation is a key element of Elan's organizational culture, as it is essential in all phases of development and across all areas of the company's operations. It ensures opportunities for sustainable and environmentally responsible business practices. All bicycles are manufactured in the EU, guaranteeing high quality, top-notch development, and complete control over all stages of the product's manufacturing process.
https://elanshop.si/elan-kolesa
Elan is expanding its product portfolio and is becoming a provider of sports equipment for everyday use throughout the year.